Discover more from Abortion, Every Day
All things abortion. Feminist commentary & community.
Abortion, Every Day (4.17.23)
Idaho dismantles its maternal mortality committee—they'd rather not know
You may notice we have three new sections in the newsletter today: 'Care Denied', 'Republican Panic' and 'Conservative Corruption'. Because there's so much happening, I want to make sure everything is as clearly organized as possible! (And unfortunately, there's a lot of news happening in all of those areas.)
In the States
Things continue to be dire in Idaho, where even more data has come out showing that OBGYNs are leaving the state over its abortion ban. A survey conducted by the Idaho Coalition for Safe Reproductive Health Care showed that 48% of maternal health doctors in the state are considering leaving in the next year. Another 27% answered "maybe" to whether they're considering leaving.
We've already seen several Idaho hospitals shut down their maternity wards because of the state's abortion ban and the resulting OBGYN exodus—all of which will lead to increased maternal mortality rates. That's why this next bit of news is so confounding: Idaho lawmakers ended the state's Maternal Mortality Review Committee.
The committee, created in 2019, had already found that the state's maternal mortality rate doubled between 2019 and 2020. And even though the committee only cost the state $10,000 in funding, Idaho lawmakers declined to renew it. Dr. Loren Colson, a family medicine physician in Boise, wrote in the Idaho Capital Sun about just how dangerous this decision is:
"A lack of support for policies that help pregnant women has been exacerbated by continued efforts to criminalize medicine, which put our physician workforce in jeopardy. What will happen when there's more pregnant people due to the abortion ban and less physicians to care for them? It will be more important than ever to review circumstances where the medical system failed and troubleshoot how to prevent the same events from happening again. Yet we will be left without one of our greatest tools to do so by no longer having a Maternal Mortality Review Committee."
How many more ways can Idaho Republicans make clear that they don't give a shit about women dying?
Abortion, Every Day ensures that you get comprehensive local, state and national news on abortion. Help support the work with a paid subscription or by recommending the newsletter to a friend!
Meanwhile, the abortion ban in Idaho is leading to an increase in abortions in neighboring Washington, where abortion is legal. Abortion providers in the state, however, are preparing for the possibility of more legislation that could limit travel there. From Courtney Normand, Washington state director of Planned Parenthood Alliance Advocates:
"The level of aggression and extreme interpretation coming out of Idaho is alarming. We continue to see increasing numbers of patients from Idaho and it's really important that they understand they'll be safe coming here."
Something you may not remember about the 6-week abortion ban that Florida Gov. Rob DeSantis signed last week: It allocates $25 million in funding to anti-abortion centers. Now, if you're reading this newsletter, you already know that these centers lie to women about abortion (and sometimes even their own pregnancies). But even I was shocked by the questions on this volunteer application form for 'A Women's Pregnancy Center' in Tallahassee.
Not only does this anti-abortion center want to know how much time you spend a day praying and if you go to Bible study, but also how they feel about single women parenting a baby, and—for male volunteers—if their partner "has ever aborted your child." (!!!) It gets worse. The volunteer application makes clear that the center won't counsel a single woman on birth control options, and that a married woman who wants information on contraception should be "urged to seek counsel from her husband."
By the way, this pregnancy center is one of many subcontractors used by the Florida Pregnancy Care Network—recipient of that aforementioned $25 million. In other words? This insanity is state-funded. Thanks to the excellent Dr. Jennifer Lincoln for flagging this shitshow:
Tiktok failed to load.
Enable 3rd party cookies or use another browser
Speaking of millions wasted on anti-abortion efforts: Ohio lawmakers will resume hearings this week on legislation seeking to increase ballot measure standards—a move to make it more difficult for pro-choice advocates to restore abortion rights in the state. Republicans in the state want to hold a special August election to pass legislation that would increase the votes necessary to pass a ballot measure from a simple majority to 60%, and they want a $20 million budget to do it.
In Wisconsin, Republican Derrick Van Orden wants his colleagues to consider amending the state's total abortion ban to include rape and incest exceptions and restrict abortion after 15 weeks. Because Wisconsin voters just elected pro-choice Supreme Court Justice Janet Protasiewicz, Republicans' fear is that pro-choicers will win a challenge to the state ban—and end up with a ruling that legalizes abortion without restrictions. (Make sure to check out the 'Keep An eye On…' section for the language Van Orden used and why it's so important.)
Nancy Kaffer, the editorial page editor of the Detroit Free Press, wrote a column about how the ruling against mifepristone will impact Michigan, where voters decided last year to protect abortion rights in the state constitution:
"The goal of the American anti-abortion movement is to make abortion illegal in this country, full stop. And they do not care what you, Michigan voters, think…This ought to make you angry. And I hope it makes you fight."
In Maryland, Gov. Wes Moore said this weekend that the state will "lead on" abortion rights. "Maryland is going to be a state where we are going to protect reproductive health and reproductive rights," he said. (Maryland is one of the states that has started to stockpile mifepristone, and is passing legislation to protect abortion patients and providers.)
And if you want a picture of just how twisted our post-Roe reality is, check out this question a Georgia woman encountered while filing her taxes:
Quick hits:
Care Denied
The two women who shared their stories of being denied care in Florida with The Washington Post spoke to MSNBC about their experiences. If you can bear it, I really recommend watching and sharing. In a message to state lawmakers, Anya Cook said, "You're killing us."
In the Nation
Abortion providers and clinic workers in pro-choice states spoke to NPR about what' it's like dealing with the influx of out-of-state patients. In Illinois, for example, some clinics have seen a six-fold increase in patients from anti-choice states. An abortion navigator there described her work as akin to being a travel agent: "[She] and her co-workers joke that that's half the job—booking flight, train and bus tickets for out-of-state abortion seekers, arranging hotel stays and giving them money for food and gas."
But it was this quote from Adrienne Mansanares, president of Planned Parenthood of the Rocky Mountains, that really shook me:
When Mansanares pulls into the parking lot at work each morning in Denver, she's greeted by abortion seekers sleeping in their trucks. Usually, the travelers have Texas license plates. Dallas to Denver is at least a 12-hour drive. Cities like Austin, Houston and San Antonio are even further.

"It's like, 'Oh my gosh, hi, do you need blankets?'," Mansanares said. "They're [like] refugees. They're seeking care and having to drive through the night to do that."
We live in a country where women have become medical refugees. Really take that in.
The Los Angeles Times reports that the next abortion rights battle will be over claims around mifepristone and women's mental health. They point to how Kacsmaryk's ruling repeated false anti-abortion claims that abortion medication would hurt women because of "the intense psychological trauma and post-traumatic stress women often experience from chemical abortion." We know this is bullshit—and that women actually experience mental health issues when they're denied abortion. But it made me think about all of the anti-abortion bills that have 'exceptions' for women's health and lives that explicitly exclude mental health—including credible threats of suicide. So women's mental health matters when they want to deny abortion, but we can go ahead and kill ourselves if we want an abortion. Got it.
By the way, if you missed Jessica Mason Pieklo (who hosts the terrific podcast Boom! Lawyered along with Imani Gandy) on Democracy Now, make sure to check out her conversation with Amy Goodman.
Quick hits:
Conservative Corruption
If you missed this over the weekend, please make sure to check it out: The Washington Post found out that Judge Matthew Kacsmaryk wrote an anti-abortion, anti-trans article for a Texas law review. That wouldn't be surprising on its own—we knew he was a bigot. But apparently after he sent in the piece to be published, the editor got an email from Kacsmaryk, asking him to remove his name from the byline and put two colleagues' names instead—for "reasons I may discuss at a later date."
The reasons? He was about to get interviewed at the White House for his judgeship and was required to list all of his published work to be submitted to the Senate Judiciary Committee. Read the whole piece, but it is bananas. These men think they don't have to follow the rules.
Keep an Eye On
Conservatives changing their messaging goalposts. A commonly-used anti-abortion talking point is the lie that Democrats support abortion until the moment of birth. We know that's not how pregnancy or abortion works, but conservatives are desperate to paint pro-choicers as murderous radicals. That's why so many Democrats are pushing policies that don't go further than restoring Roe, or are caving to similar restrictions on later abortions—they think it will help them avoid accusations of extremism. But it won't.
I told you recently about the proposed Ohio ballot measure from pro-choice activists, for example, and how it wouldn't protect abortion rights after fetal 'viability'. Still, the president of Susan B. Anthony Pro-Life America, Majorie Dannenfelser, wrote a Newsweek column claiming the measure would allow abortion up until birth. Just as important as that lie was her introduction of a new line in the sand: Arguing the ballot measure would legalize abortion "past the point at which [the fetus] can feel the pain," which she claimed is 15 weeks into pregnancy. This is another talking point not remotely based in science or reality, but it's a good indication of where the movement is going next.
They got Democrats to acquiesce to restrictions on later abortions through one talking point—so why not put out a new lie to push us even further? We're going to start seeing that 'pain capable' myth everywhere. I told you earlier in the newsletter, for example, that Wisconsin Republican Derrick Van Orden wants lawmakers to amend the abortion ban to include exceptions and a 15-week restriction. Well, check out the language he used: He said "we need to talk about a pain-capable, 15-week limit on abortion."
The other (related) messaging we're continuing to see a lot of is the notion that's it's 'reasonable' or 'a compromise' for Republicans to push for a 12- or 15-week ban. Sen. Lindsey Graham was on Fox News Sunday, for example, saying he believes in "common-sense" restrictions on abortion and that Republicans need to have "reasonable" positions. Def be on the lookout for more of that.
Republican Panic
My favorite new topic! Republican lawmakers and donors aren freaking the fuck out about abortion. Speaking of Lindsey Graham, for example, New Hampshire Gov. Chris Sununu went on Fox News this weekend to talk about how Graham's move proposing a national 15-week ban before the midterms was "the dumbest thing you could possibly do." The Republican governor went on to say that Republicans were turning away younger voters and that "it's a terrible message for for the Republican primary."
It doesn't look like funders are loving the abortion problem, either: A top Republican donor just decided to stop funding Ron DeSantis' presidential bid because of the Florida governor's stance on abortion and LGBTQ issues. Thomas Peterffy told the Financial Times, "Because of his stance on abortion and book banning . . . myself, and a bunch of friends, are holding our powder dry."
You Love to See It
I hate why we had to be out of there, but love to see the activism of so many feminists across the country who came out to protest the ruling against mifepristone.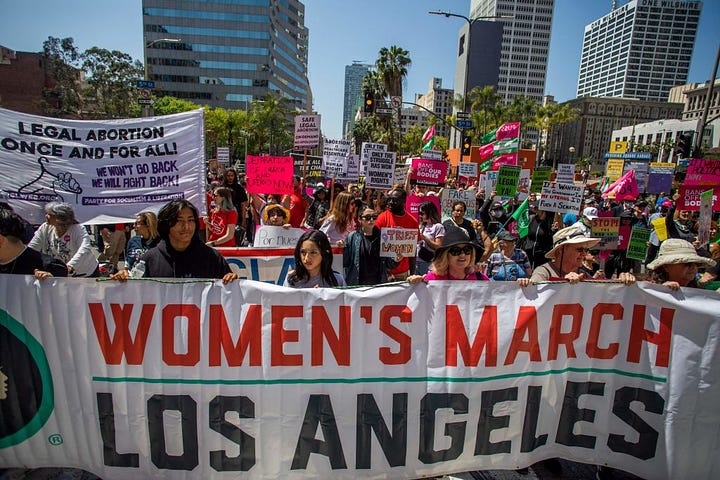 This newsletter was compiled with the help of researcher Grace Haley.